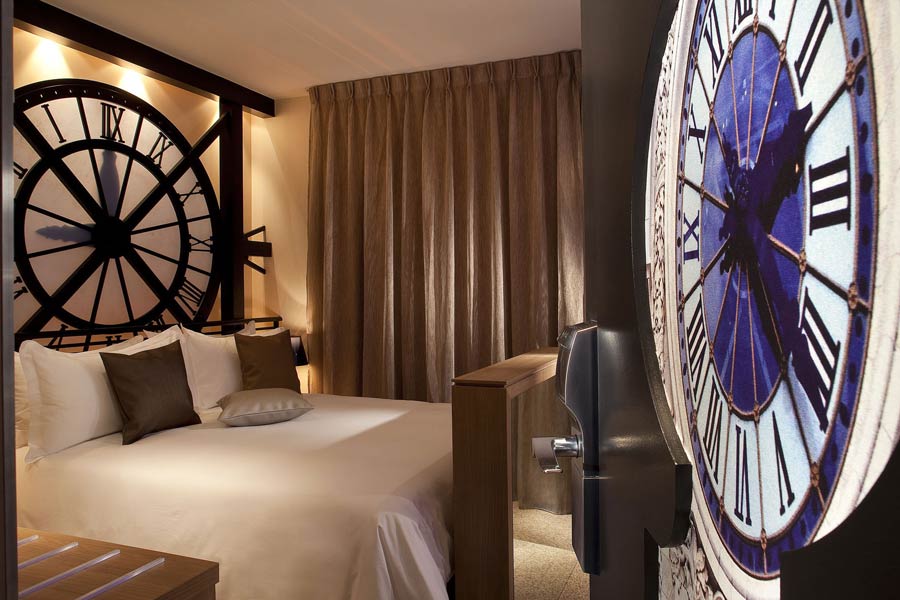 You are looking for a romantic hotel for your week-end in Paris ?
Discover the rooms of Hotel Design Secret de Paris  (some of them have a private jacuzzi in the room) and read  the  guest reviews  from people coming to Paris as a couple.
GUEST REVIEWS ON TRIPADVISOR
Discover the opinions of customers who have stayed at the Secret de Paris hotel during a romantic getaway.
"Amazing"


Amazing service, excellent Breakfast buffet, beautiful room. I couldn't find a better place to stay in Paris. Metro is nearby, closest closed parking in walking distance. Moulin rouge in walking distance, plenty of restaurants and bistros as well as fast food options
Milan M – November 2022 –  travelled as a couple
"Our first visit to Paris"


We opted for this hotel based on their advertising and weren't upset at all. The staff assisted very well and provided support in findi g directions for us. Breakfast was simple yet good. The room was an acceptable size and themed accordingly. Free wifi. No coffee station and the aircon did not work. Great experience otherwise
Robert M – October 2022 –  travelled as a couple
"Fantastic Experience"


My fiancé and I recently stayed for 4 nights and we simply couldn't fault this hotel. The staff are an absolute delight. The hotel and rooms are immaculate. The private jacuzzi experience was a personal highlight. Should we ever return to Paris for a holiday, it is hard to imagine us staying anywhere else. Loved every minute of it
Ryan O – October 2022 –  travelled as a couple
"Great Team, lovely little hotel"


Superb hotel. Could not fault ! Great team looking after us and facilities were superb. The location was great for getting around the city with a choice of Metro stations and plenty of cafe's bars and restaurants nearby. Lovely little place to share some secrets too 🙂
Paul – September 2022 –  travelled as a couple
"Business owner"


We stayed four nights at this hotel. It was incredibly clean and had a great location. The staff was incredibly friendly and very helpful. They were able to answer all the questions we had it was nice to see people who truly liked their jobs. When we go back to Paris we will definitely stay at this hotel again.
Mike K – Jul 2022 –  travelled as a couple
"Wonderful weekend in Paris"


Excellent location with easy access to the metro and plenty of cafes nearby. We were able to walk the entire city from this hotel. The staff were very welcoming and went out of their way to make our stay comfortable. Will plan to stay again if our travel plans bring us back
Aniel R – June 2022 –  travelled as a couple
"Thank you for the excellent service during our stay!
Special thanks to Alison and Juliet for all the support and help!"


We will certainly consider visiting again.
Hope that Alison and Juliet are present again to make us feel as comfortable as the first time.
That's again and hoping to see you both again in a close date from now
Manuel M – May 2022 –  travelled as a couple
"Great trip"


The hotel was excellent. Staff were very friendly and accommodating. The rooms were clean and spacious. The themes were great, just as expected. I would definitely recommend this hotel. The location was convenient and easy to get to touristic attractions
Rana M – March 2022 –  travelled as a couple
"Great Secret location"


Great hotel, friendly staff, perfect location, could not have asked for more. Rooms great and clean. This is truly a gem in Paris ! Forgot a few items in the room and were immediately contacted. Honestly the customer service is fantastic! I will be back…
CatherineK -Feb 2022 –  travelled as a couple
"Blissful stay"


Booked Xmas 2019, but postponed due to Covid. The hotel staff patiently kept allowing us to cancel and rebook – but we finally go there. So delighted we went. The rooms are fun and elegantly appointed. All staff are charming and so so helpful. The location is central and safe. I can't think of one negative comment – I
Just stay longer than 1 weekend, it's not enough! Loved every minute
RebeccaD – Nov 2021 –  travelled as a couple
"Great little hotel in a good location"


We arrived at mid-day and as expected our room wasn't ready. This was fine as we left our bags with reception and went out exploring. The nearest metro is just a few minutes walk away at Place de Clichy. If you look on the website the rooms look stunning … they've done a good job of that website by the way! The reality is that the rooms are really quite small but adequate. You get complimentary water (2 small bottles) each day. The bathroom is unusual. The shower is really good, but the doors are glass, and you can see anyone sitting on the toilet from the main bedroom which may make some people feel a bit uncomfortable. There is another toilet in the basement area which serves the spa area and you can use this if you felt uncomfortable with the glass door in the bedroom/bathroom.
Location is excellent. You can walk up to Pigalle in 5-10 minutes where you'll find the Moulin Rouge and plenty of saucy shops if that's your thing! From there you can walk up to Montmartre and The Sacre Coeur but it is a gentle climb all the way and I'd estimate it would take 20-25 minutes to walk there from the Hotel. There are plenty of bars and restaurants near the hotel too. Would I stay there again? Yes I think we would
Npp62 – March 2020 –  travelled as a couple
"Lovely hotel"


Stayed here for one night for my boyfriends birthday. Really nice hotel, staff are super friendly. I did think the hotel was very pricey but it was a special occasion so went all out, not quite sure it was worth the price but depends on ur budget. Would definitely recommend this hotel if money is not a problem
KerryB – Feb 2020-  travelled as a couple
"Friendliest hotel staff"


We were initially a bit apprehensive about visiting Paris, considering our French language skills only ran to 10weeks worth of study. But from the moment we fumbled our way through our first greeting at this very special Parisian hotel, we were made to feel relaxed and welcome by the very friendly staff. Sensing we had travelled a long way to reach our destination, the staff showed us to the lounge area and offered us a complimentary refreshment, and time to unwind before we were shown to our room. The room was comfortable too – with blackout curtains, and a powerful shower. I don't think you could find a friendlier place to stay in paris if you tried. We would absolutely return to this hotel ourselves.
Teamian – September 2019 –  travelled as a couple
"Good visit"


This hotel was well decorated, well run and the breakfast was excellent. The rooms were small but rooms are small in Paris. Great location, great neighbourhood and I would recommend this hotel for couples.
Denverct – September 2019 –  travelled as a couple
"Just wonderful"


This is quite simply, a wonderful hotel. A real jewel in the Paris crown. We stayed in the Moulin Rouge room and the attention to detail is amazing. The mood lighting is a phenomenal idea! We found the room itself helped us relax after some long days in the city. Bed extremely comfortable and plenty of pillows helps make this a comfortable hotel as well as an aesthetically pleasing one. Nearest metro is about a 5 minute walk and we managed to get round the rest of Paris from here no problem at all. The staff are all extremely helpful without being intrusive and if you're looking for somewhere quiet to stay then this is the hotel! We felt like we were the only ones in the building. Honesty bar a lovely idea too. Would definitely return here on a second trip to try another room!
Laura B– August 2019 –  travelled as a couple
"Will be coming back! What a little treasure of a boutique hotel – loved it!"


We stayed for three days + this hotel just captured a little piece of my heart! This was a year ago now + I still think how much I loved my stay here! The staff were charming + gave us fantastic recommendations of the local area. The whole place was beautiful and had so much character. Recommend for location, friendly staff, cleanliness and some fantastic photos! Love love love Secret de Paris x
ToniLove To Travel– June 2019 –  travelled as a couple
"Nice hotel in Paris"


Nice hotel in Paris with different rooms designed according to different locations in the City. From Moulin Rouge to the Eiffel Tower. Small place ideal for low budget couples travelling for a romantic trip and looking for full Paris immersion
Pierre Shuester– May 2019 –  travelled as a couple
"A very cool hotel"


So much to love about this hotel. In no particular order: it's in a great location, with plenty to see and do on its doorstop. We opted for the themed Moulin Rouge room, which was fun. Amazingly comfortable bed. The only downside (for some people) might be the glass wall to the shower and toilet area, so you need to be comfy with your fellow guest! But what really sets this hotel apart from others is the employees. I'm struggling to recall a more helpful, friendly group in any hotel. They male you feel like old friends.
Nickwanderlust76– May 2019 –  travelled as a couple
"Fabulous Hotel/Amazing Staff & Service"


First time visiting Paris and our stay was absolutely amazing. I cannot say enough good things about this hotel, the staff and the service we received. Staff went above and beyond to make sure we were taken care of. The hotel was clean, adorable and smelled so nice! Our room was also amazing. Guillaume, Alison and Camila were so helpful and accommodating and made us feel so welcome from start to finish. All 3 of them were exceptionally accommodating to us.
I would highly recommend this gem of a hotel when staying in Paris!!!!
Carmen Campbell– May 2019 –  travelled as a couple
"Gorgeous hotel, absolute gem"


This hotel is amazing. The décor is so unique. It's classy, it's romantic and the staff are amazing.
We had the Moulin Rouge room, which was just gorgeous. The attention to detail, especially the particular attention to ambience in true French style, was everywhere.
A quick word on the staff as well who were amazing, very friendly, welcoming and professional. Everything you want from great service.
The lounge with the honesty bar was also beautiful with great champagne.
Overall, thoroughly beautiful hotel and you will be back once you've stayed once.
Oz1980– April 2019 –  travelled as a couple
"Brilliant"


This was a fantastic hotel. I could not recommend it more. The room was spotless, quite and the staff were so helpful. Its only a 5 min walk to the metro and Gallerie layfayette and after a long day out in paris a sauna and steam room was so nice to spend a little time in. Loved it!
Franck MacCarthy– March 2019 –  travelled as a couple
"What a lovely find"


Loved this hotel, stayed in the Eiffel Tower room, yes small but lovely, staff extremely helpful and attentive- breakfast was great – centre to most things, we walked everywhere. Would go again, nothing too much trouble for the staff and everything was top notch loved it
Kathryn W– March 2019 –  travelled as a couple
"Amazing hotel"


We have just arrived back from our stay at this hotel & I can't fault it in any way. The hotel is amazing, – great location, lovely themed rooms with Jacuzzi and rainfall shower, spotlessly clean, great breakfast and most importantly the staff, – they were so helpful & friendly & this made our trip even more special. We went for my girlfriends 30th birthday (which they didn't know) and so when they personally wished her happy birthday on the day & put balloons in our room this was a lovely surprise.
I would recommend this hotel to anyone & we would certainly stay here again if/when we are next in Paris
lee171181– January 2019 –  travelled as a couple
"Fantastic hotel"


Me and my partner stayed here for New Year's Eve and my birthday.
An absolutely stunning boutique hotel. Comfy beds, clean room. Gorgeous jacuzzi bath and rain showers
The staff are lovely and would do anything to make things special for you.
Breakfast is lovely – continental with a choice of eggs cook for you how you would like.
It's a fantastic location. Close to the moulin rouge ( which I seriously recommend ) near restaurants and bars.
30 min walk to the champs Elysees – 45 min walk to the Eiffel Tower.
Truly recommended and would stay again!
ShannanSmith– January 2019 –  travelled as a couple
"Wow, just wow, amazing hotel!!"


I brought my girlfriend to Paris last weekend for her 21st Birthday and I wanted to make it special and the hotel we stayed in made it extra special, it exceeded all of my expectations!! From the minute we stepped inside the door to the moment we left it was phenomenal!! We were greeted by a receptionist who couldn't have made us feel any more at home, on the way to the room we had a small tour of the hotel where we told little secrets of Paris and the hotel itself, very nice idea!! When we got to our Eiffel Tower room, we were amazed at the attention to detail, it was amazing, the mood lighting really added to the room and you could almost feel like you was there!! The shower room just added the class to the room with the blue lighting and all glass surround!! The bed was really comfortable which added to the comfort of our stay!! The hotel itself is in a great location, right in the heart of Paris, a 5 minute walk to the famous Moulin Rouge, 30 minute walks would take you to the bank of the river seine where you would be within touching distance of the Champs-Élysées, the Louvre and the Arc de Triomphè, and 30 minutes in the other direction would take you to Paris Gare du Nord station!! Finally as we checked out on the Monday morning the same friendly receptionist offered to store our bag for us for the remainder of the day, which was a very nice and thoughtful touch as our train wasn't until later that evening so it was very helpful as it wouldn't have been pleasant dragging a suitcase round Paris!! The hotel is great value for money and it is an absolute must if you're planning on visiting the city!! We will definitely be back in the future!!
Jsweet97– December 2018 –  travelled as a couple
"Really different and with sauna and steam rooms."


The concept is really different and the design amazing.
The staff is very friendly and helpful.
The hotel is very clean and the room size is really ok for Paris. The hotel is very quite. The bed of good quality and the bath room very nice (including jacuzzi for some rooms)
You will enjoy the sauna and steam bath rooms.
The location is good as well (15 minutes walk from Galeries Lafayette).
We will definitely come back
MonyLux– December 2018 –  travelled as a couple
"Perfect Honeymoon."


We stayed here for our honeymoon, the hotel was beautiful and the staff made us feel comfortable. We were greeted with tea and coffee when we arrived and our breakfast in bed topped off our stay. Thank you for making our honeymoon so special – we will be back for sure!
Damon– December 2018 –  travelled as a couple
"The perfect honeymoon hotel."


We stayed at the Hotel Design Secret for only one night at the end of our honeymoon but wished we could have stayed longer.
It was the perfect venue for us-the wonderful district of Montmatre on our doorstep and although we had little time we managed to see the whole of Paris from the Sacre Cour.
Our Opera room was fabulous: had beautiful atmosphere and we very much enjoyed the jacuzzi. The whole hotel had a wonderful ambiance and was beautiful-we loved hearing about the concept and the history.
However, absolutely the best thing about the hotel was the people that work there.
We were greeted by Pierre and he was incredibly welcoming and helped us immensely with a problem with pye luggage-personally helping us find someone to repair it for us.
I can honestly say we did not receive such fantastic service anywhere else on our trip and this included a 5* grand hotel in Prague and the Belmond Orient Express!!!
The other staff also couldn't have been more helpful-getting our room ready early and continually giving us help and advice for our stay.
Thank you all so much for making our stay such a wonderful experience
Lovelylaura66– October 2018 –  travelled as a couple
"Couldn't ask for better!"


We just returned from Paris and we were reminiscing about our trip. Both couples absolutely loved this hotel. We were blown away by the service we received from their front desk staff, in particular we loved interacting with Matthieu! He made some excellent dinner suggestions for us and his personality was superb! Do not hesitate to book this hotel! The location is excellent. For first time Visitors to Paris, location is VERY important so we could get easy access to the metro and have walkable distances to major attractions.
The breakfast that was included was simple but DELICIOUS! The pastries are delivered fresh every morning at 6am….you will not find a better croissant anywhere…believe me…we tried!!! Lol.
SchneiderGuy– September 2018 –  travelled as a couple
"Best Design Hotel in Paris !!"


Just fantastic ! Best Localization and Perfect Crew . All the hotel team are very polite and always ready to help in anything that you need . The rooms are very clean and with a special decoration ( it's not necessary a big room in Paris ,… just on efficient with a incredible shower and bed ! Localized near of all of the best attraction in Paris … we made almost walking ( but if you want metro stations are very close eihter) !!! Special thanks to Camila and Guilherme .. you are the best !! and speak Portuguese !!!!
Thanks for all and hope see you later !!!
Emerson M– September 2018 –  travelled as a couple
"Lovely romantic place !!"


Super nice place in a great location. Very quiet hotel and boutique hotel. Cute, well decorated and perfect for a few nights at two. The Quai d Orsay room was amazing with the spa bath. Perfect to enjoy and relax after a day out in Paris
diamen56– September 2018 –  travelled as a couple
"The Secret is Out: It was Magical!"


Wow! My husband and I stayed at this wonderful boutique style hotel for 5 days. What an amazing staff who spoke perfect English and were very helpful for all of our needs. As a gay couple we often can be made uncomfortable when checking into hotels but not at this wonderful hotel. It was clear this hotel was made for couples who want to enjoy a romantic stay while in the most romantic city in Europe. The staff gave us a wonderful tour of the facility upon checkin and they never blinked an eyelash when talking about making sure our romantic needs were met. It was absolutely the best bathroom options in a Paris hotel in this price range. We opted for the jacuzzi hot tub room which still allowed us to soak and shower together using the beautiful big rain shower head. I highly recommend this jacuzzi style bathroom because after our long days walking and exploring Paris, it was excellent to use the hot waters inside the privacy of our own room to relax. Most hotel bathrooms in Paris are small and tight, not here. You will feel like it's a whole other room it's so big.
We also loved that the hotel was perfectly positioned to use both bus and metro trains to get around Paris. We chose to use the excellent Paris buses to get around and they were way better than the underground trains.
Plenty of wonderful cafes and restaurants are in the neighborhoods surrounding Hotel Design Secret de Paris. You're blocks from some of the busiest streets of Paris and also some of the quietest residential areas. My husband and I personally didn't care for the touristy Moulin Rouge area close-by mainly because we were constantly accosted by women who offered us massages and entries to gentlemen clubs, clearly not our cup of tea. But we always felt perfectly safe!
EdReggi– August 2018 –  travelled as a couple
"A Unique Paris Hotel with class!"


This is not your usual hotel its more of an artsy fun place to stay. The staff is friendly and very accommodating. It's close to everything and a cab ride or subway will get you where you need to be. We walked most of the time. This is the cleanest hotel I;ve stayed at in a long time. It was fun! Whoever came up with this design and concept should open more.
makeisto4u– August 2018 –  travelled as a couple
"Fabulous hotel!"


The hotel was clean, with fun themed rooms. It's in a great location and walking distance to many sites with great restaurants nearby for dinner. The hotel staff were so friendly and we hope to stay there again when we come back to Paris
Dannii C– July 2018 –  travelled as a couple
"Great Property Close to everything!"


We came to Paris for our anniversary and were not disappointed. The room was clean, neatly appointed and the staff was excellent. Breakfast was good. The location was within walking distance to many fine restaurants and the city center. I would recommend this property and if we visit Paris again it will be at this hotel
pmaza419– July 2018 –  travelled as a couple
"Great hotel"


The hotel was in a good location and the staff was very helpful. There is plenty of
shops and bars within walking distance of the hotel. The rooms was very nice. Would definitely stay at this hotel again
james b– June 2018 –  travelled as a couple
"Excellent Service and Beautiful Hotel!"


If you want to stay at a hotel where you are treated extremely well, this is it. Paris was our last stop on a two week European vacation where we stayed at multiple hotels, and this was by far the best. The front desk staff has figured out the "secret" to great customer service and they show this through each interaction with you. Hotel staff went above and beyond to ensure we had a pleasurable stay. Thank you Hotel Design Secret de Paris for making our stay in Paris extra sweet!
Zohaib G– June 2018 –  travelled as a couple
"Perfect location for sight seeing in Paris!"


If you want to stay at a hotel where you are treated extremely well, this is it. Paris was our last stop on a two week European vacation where we stayed at multiple hotels, and this was by far the best. The front desk staff has figured out the "secret" to great customer service and they show this through each interaction with you. Hotel staff went above and beyond to ensure we had a pleasurable stay. Thank you Hotel Design Secret de Paris for making our stay in Paris extra sweet!
Amy M– June 2018 –  travelled as a couple
"So Comfortable"


The beds in this hotel are amazing. We stayed here the last 2 nights of a 10 night European backpacking trip and I slept so well that I had enormous amounts of energy to see as much of Paris as I could in 2 days. The staff was extremely friendly, the hotel was very clean, the jetted tubs were amazing, and the price wasnt bad at all. We stayed in the Opera room but I'm guessing you can't go wrong with any room.
Patrick H– May 2018 –  travelled as a couple
"Quirky, Central, Convenient,"


Very reasonably priced accommodation, centrally located, compact and clean, themed rooms ( we were in the Eiffel Tower room ), dim mood lighting throughout. Friendly helpful English staff. Standard continental breakfast on offer with eggs any which way if required. Walking distance to all decent facilities … including the Moulon Rouge
Eric L– May 2018 –  travelled as a couple
"Very good location and highly recommended"


Pluses will be very good location near different subways and Montmartre . I could walk to try all the best value food nearby – top ranking restaurants within 10 mins walk . Hotel room is well designed and new. Even got a speaker for me to steam music . Hotel staff is very helpful when I was trying Uber to train station
Only little minus is the room temperature could not go lower on the 2 days it was hot in Paris
MichelleNYp– May 2018 –  travelled as a couple
"Cool Deco"


Nice newly decorated hotel. We had the Eiffel Tower theme room. Though the space is not big but it is very well designed. Good sound proofing.
I like be the location. Only a short walk to moulin rouge and lots of good food within walking distance
dave– May 2018 –  travelled as a couple
"Great hotel"


We have stayed in this hotel for Easter. Hotel is very cozy, beautiful room, very different from any other hotel rooms. Hotel has great facilities which we could use 24h a day.
Everyone was very friendly and helpful. Hotel is walking distance from most tourists attractions. We had absolutely fantastic time.
Thank you for having us 🙂
Aleks and Jonny
Aleksandra S– April 2018 –  travelled as a couple
"Beautiful Boutique Hotel"


Stayed here for 4 nights over Easter – a surprise off my boyfriend. What a beautiful hotel nestled away from the hustle and bustle but within walking distance of every Paris attraction. Hotel is about 5 minute walk to the Moulin Rouge and 15 mins from Sacre Coeur. We had the Eiffel Tower room (13) The room was spotless, comfortable bed & the bathroom was modern with jacuzzi bath and mood lighting. Water and fresh orange left complimentary each day in the fridge and even Easter eggs left in the room on Easter Sunday which was lovely. We didn't choose to have breakfast preferring to make use of the local patisseries (& they are plentiful) 24hr concierge, friendly staff and made to feel welcome from start to finish. So many nice touches that made our break extra special. Loved our stay here & would highly recommend.
Summershiraz– April 2018 –  travelled as a couple
"Mr wayne pickering"


Stopped in the hotel for 4 nights in the Eiffel Tower room . Fantastic room lovely hotel and the location is very good , and the staff are very friendly . Highly recommend for a weekend visit I would come back again if I visit Paris
Thecat1267– April 2018 –  travelled as a couple
"Romantic and classy"


I booked this hotel as a surprise for me and my now fiancé. The small boutique hotel makes it feel so classy and special, and the different style rooms are amazing.
We had the 'artist' room, it was bright, airy, clean and modern, with some lovely features like the switchable mood lighting. The jacuzzi bath was amazing, perfect after a long day wondering Paris, and in my case proposing to my partner – she said yes by the way!
The staff were helpful and informative, they catered for our every need. We opted for the breakfast in the room on our stay, the choice was amazing and the food perfect and very tasty! Breakfast wasn't cheap but as to be expected for a hotel in a city such as Paris.
Location wise it was perfect, taxi was only €8 Euro from the train station – we travelled from London via Eurostar. There were plenty of cafes and places to eat near the hotel but we ventured towards the Eiffel Tower which was only €1.90 each and 15 minutes on the metro (underground).
Overall the trip and hotel were a success, the hotel just made it for us though. We 100% would recommend and would stay again but in a different themed room.
Only slight gripe was that the jacuzzi bath was very noisy and the room next door decided they wanted there's on at 1am in the morning, meaning all we could hear was the rumble on the bath and and the water pipes feeding their bath seemed to run through our walls. All in all though that's just me being picky and the hotel was outstanding as were the helpful staff.
MattUpson– March 2018 –  travelled as a couple
"Very Cozy"


My fiance and I enjoyed our stay at this hotel! We selected the moulin rouge room, the themed room and the lighting was very cozy! We loved it. The hotel itself is very interesting, as well. We didn't get a chance to explore it, as we were busy fitting 4 days of Paris sightseeing. Its location is near the station, so you can get anywhere easily. Plus it is walking distance from great restaurants (Flesh for dinner and les Deux Moulins for breakfast) and Montmartre.
By fault of our own, we did not select the proper check-out date, but it was so problem and we were not charged for it! Their customer service was fantastic! Also kind as we came and went. For couples looking for an intimate stay, we recommend this place!
taelar b– March 2018 –  travelled as a couple
"Phenomenal"


We stayed at this hotel for 3 nights and as soon as we arrived we were made to feel welcome. Staff at the front desk were really helpful and as we arrived at 10am (room shouldn't have been ready till 3pm) they made sure our room was cleaned first and we were in by 11am. The hotel itself was incredibly clean and lovely and quiet, never heard anyone in the rooms next to us or any disturbing noises at all!
The staff couldn't do enough for you, we needed quite a lot of help getting from place to place but this was never a problem because as soon as you asked reception they would get out a map and circle the best places and the quickest way to get to them!
This was a special weekend for us as we got engaged, we wanted to go for a special meal and the hotel recommended a quaint little place and straight away booked a table for us!
Would definitely recommend this hotel and when we go back to Paris in the future this is the place we will stay!
Great job guys!!!!!
Matt S– February 2018 –  travelled as a couple
"Fantastic stay!"


Excellent property with themed rooms. Super adorable set ups and the shower/jacuzzi in the Opera room was awesome. Small little touches like a ballet slipper decoration on the beds shows the attention to detail they show. Conveniently close to a couple Metro stops. Staff was incredibly friendly and helpful. We even received a gift of chocolates for Christmas from them. Thank you Matthieu and team for a fantastic stay over Christmas!
JDub– January 2018 –  travelled as a couple
"Very Special Holiday"


We stayed at Secret de Paris during Xmas time. The moment we walked in, we were blown away by the friendliness of the staff and their sense of humor. They took their time to explain the little fun facts of the hotel while checking us in. We settled nice and comfortably in a room with theme Trocadero. It was a good size in Paris standard and the jacuzzi in the room is definitely a very good touch of luxury in a boutique hotel. The room is modern and well equipped with thoughts.
We have to mention the quality of their staff, not only they are friendly and welcoming. They anticipate your needs and not afraid to give you idea where to go based on what experience you would like to have. We were given a list of tourist attractions that remained opened during Xmas day without asking (they did their research and typed them up with opening hours on Xmas day). Point to us where to get some nice wine and champagne during our stay in Paris and good place for a coffee and croissant experience.
Overall its a very nice hotel but their staff make it a top choice for us next time we come to Paris.
Clara L– December 2017 –  travelled as a couple
"Fantastic hotel"


What an amazing hotel. We had the Eiffel Tower themed room, which was stunning. The jacuzzi bath was incredible. The Hotel is nicely located and I would 100% stay here again. The staff were very friendly and polite.
Paul G– December 2017 –  travelled as a couple
"Celebrating or birthday"


We had a wonderful stay at hôtel design Secret de Paris everybody was so welcoming and friendly also the room was beautifull and everything was super clean.
I'm looking forward to my next visit.
Isa d– December 2017 –  travelled as a couple
"Stunning boutique hotel in a great location"


We have stayed at the Hotel Design Secret de Paris before and wasn't disappointed again this time.
The hotel has great themed rooms which are all decorated to the highest standard. We stayed in the Musee de Orsay themed room. Room was fantastic with a rain shower above the bath and lighting that you can change to suit your mood etc.
Hotel staff are extremely friendly and helpful
Great location to explore Paris from
Would highly recommend staying here
chrisdw7– December 2017 –  travelled as a couple
"Cool vibe, great location, incredible staff"


Stayed with my wife for a week in Sept. 2017. We loved the bedroom. Everything worked as expected.
Low points:
Somewhat expensive breakfast. The air conditioning controls are a bit difficult/laggy (I didn't ask for — need — help on them, though).
High points:
The location exceeded our expectations — so many interesting spots from walking distance.
The highest point was definitely the staff. They really made us feel welcome. It was our first international trip in a while, so it was of special importance for us to feel supported. Shootout — hope I got the names right — to: Wilman (who spared no efforts to make our stay as smooth as possible, thanks A LOT!), Camila (thanks for the absolutely invaluable Paris and Versailles inside tips!) and Sofia (great conversation, hope we didn't annoy you too much :)!
acdcjunior– November 2017 –  travelled as a couple
"The best kept secret in Paris"


What an excellent hotel. Everything from the location, the design of the hotel itself was chic, top notch and slick, including the staff Such as Willman and Matthew (and the ladies too are excellent!) helped us throughout our stay in Paris.
The rooms are good space and quiet as the glass windows are super glazed so you can enjoy being in the heart and buzz of the city without the noise. Multiple charging points in the rooms and I just loved the mood lighting in the shower. Thank you to the team for making our stay in Paris an unforgettable one, especially as we were here to watch the Rolling Stones at the new stadium. Will definitely recommend this hotel and will be back
Sherina B– October 2017 –  travelled as a couple
"Perfect Honeymoon Stay!"


We stayed at Design Secret de Paris Hotel for a few days during our honeymoon and had a wonderful experience with this hotel. We really enjoyed our stay, which was largely thanks to the wonderful staff that was working there at the time. The hotel is tiny, with only a handful of rooms (perhaps 20 or so?), so the staff seem to be very familiar with who was staying at the hotel at any given time. Wilman was the person who checked us in, and he was always full of smiles and very warm when he spoke with us. Every time we came downstairs to go out or returned from a long day, he would always poke his head around the corner and ask us how we were doing and what our plans for the day were. He seemed genuinely interested in what we were doing during our visit and was always giving us advice on things to do. He helped us with every request and did his best to help us. We really enjoyed coming back to a hotel where everyone was kind, chatty, and full of smiles!
The room itself was super cute and we loved the designs, especially the cute jacuzzi in the room. It is a bit small, but that is typical of a lot of hotels in Europe. The fridge was re-stocked every day with two waters and two orange juices, which were complimentary. The hotel isn't in the most ideal location, but you are very close to the Metro stop and of course there is always Uber, so it wasn't really an issue. There are plenty of cafes and restaurants around the hotel, as well as a few grocery stores where you can pick up some snacks and drinks for your hotel room. There is also a large Starbucks around the corner and you are literally a 5 minute walk from Moulin Rouge.
Another staff member we wanted to recognize was Camilla, who was also very sweet to us anytime we needed something. She called us a taxi for the airport and made us some coffee while we waited for him to show up! All in all, I would return to this hotel solely based on the wonderful and cheerful staff that were working there. After dealing with a lot of rudeness around Paris, it was nice to come back to a place where everyone was super nice! 😊
TheWomanirene– October 2017 –  travelled as a couple
"Seriously the secret of paris"


Stayed in 2013 & 2015 and loved it, rooms are small but awesome, each room with a different parisien theme, great for a romantic getaway, a smaller type hotel
Breakfast i highly rate, made omelettes on order
Near the opera district
Arch C– October 2017 –  travelled as a couple
"Great location"


If you are planning to go to Moulin Rouge for a show, this is a great place to stay. Lovely little rooms with cool decor. Great location. Super courteous and friendly staff. Stayed in the Moulin Rouge suite. Really cool room. We liked it a lot and recommend it to all
michellemartinkamil– October 2017 –  travelled as a couple
"First wedding anniversary"


My wife and I stayed here for a long weekend for our anniversary and it was really great. We stayed in one of the opera rooms with a jacuzzi bath which was brilliant after walking / cycling around the streets of Paris. Hotel staff were all very friendly and helpful. Breakfast was nice. Hotel is a leisurely 25ish minutes walk from the Louvre with the opera less than 10. Can't fault it.
Jonny Gray– October 2017 –  travelled as a couple
"Wonderful"


This eclectic hotel is well appointed and in a fantastic location.
The staff are very welcoming and happy to assist in any way they can , helped with luggage cons restaurant bookings.
Get a room on level 5.
We loved our stay.
Philipp O– September 2017 –  travelled as a couple
"Lovely,excellent service"


We stayed here last week for 3 nights as a suprise trip for my Girlfriends birthday. I had emailed ahead and explained that I was planning to propose to her during our stay. They promtly replied and gave me a sense of reassurance that things would be fine and they would help with anything they could.
Upon our arrival at the hotel ( 10 mins in an uber from Gare Nord ) we were welcomed by Willman. This guy is a truly exceptional host and someone I will remember for a long time. We were greeted with Champagne and then he pulled me to one side to see if he could help with the proposal. What a guy.
After sipping our champagne, we were shown to our room on the 4th floor, a Eiffel tower room, number 43. Willman expained about the hotels design and characteristics and then presented us with a modest sized, but beautifully furnished room. The bed had rose petals all over it and my girlfriend was really suprised and happy. Well done Willman! After a quick tour of the room and its features, we were left to it. We went out locally ( lovely safe feeling area with plenty of bars and restaurants ) and then retired to our room.
Very comfy bed, quiet room and awesome rainfall shower and whirlpool bath. Subtle lighting and a really lovely place to be at the end of a long days travelling.
Next day we were greeted by Willman again and he explained to us on how best to get around Paris and to see the things we wanted to see. He made a take away coffee for us and We walked 10 mins up the road to the metro and 6 stops later €3.80 on the metro we were at the Arc de Triumph. We had a great day walking around Paris and the sights. We returned to again be greeted by our friend Willman. I sent my other half up to the room and explained to Willman that I wanted to propose right now, in our room and I had some champagne already. He sorted an ice bucket and wished me luck!
The next day again, we bumped into Willman and he wished us good morning and gave me a quick look as if to say ( how did you get on!! ) When I explained she said yes, he was overjoyed and shook my hand and gave my fiance a big hug. We were so happy.
Again on our return after a day in beautiful Paris, we were greeted with Champagne and our new friend Willman. He wished my fiance a happy Birthday and then we went off to the Moulin Rouge show ( which was brilliant )
This hotel is beautiful, quaint, friendly, romantic and in an excellent, safe area. The staff were exceptional and really made our stay even better than i could of imagined. I must say that Willman is the best hotel host I have ever come across, warm, friendly and most of all gave a brilliant personal service. I couldnt recomment this hotel enough and we have been lucky enough to stay at some incredible places.
We will be back as we Loved Paris and want to explore the city some more.
mcuh23– September 2017 –  travelled as a couple
"Truly Wonderful Stay and Superb Staff"


Positive aspects all around for this boutique hotel. VERY quiet rooms, outstanding staff, very friendly, helpful, and offered suggestions on things to do. Clean room, comfortable beds, nice amenities. One minor quibble, the room we stayed in (Eiffle Tower theme) had an unusual bathroom setup– textured glass wall and swinging door. So privacy (noises) is an issue, and the tub has quite high sides, so it could be challenging for some. Otherwise, we definitely recommend and would stay here again. Cannot praise the staff enough, thank you for making us feel welcome.
SOld– September 2017 –  travelled as a couple
"Excellent"


we stayed for 2 night, 2 wonderful nights!
we loooove it — excellent design and phenomenal staff!
initially we reserved a "standard" room at the famous hotel, then we did the last minute change — looking for "something with soul of Paris" we decided to take a room at this hotel — happy we did that.
if you book thru their web site — it is cheaper than travel agencies (we saved $50 on expedia "taxes")
Staff is REALY great and helpful — thank you, guys, you made our stay very special
abg9750– September 2017 –  travelled as a couple
"Awesome secret to share"


Brilliant night in this jewel hotel. Everything is designed with originality and great attention to details. I've come several times in different rooms (moulin rouge, rifle tower, Trocadéro…) they have all a great decoration. Bathrooms are just… crazy with richness of materials and super lighting ambiances for 4 moods.
Bathtub jacuzzi? You will sleep in it 😉
Service is also discret and very professional. All folks are smiling at you and make efforts to make you at ease. Breakfast especially with brings you the best croissants and fruits from around the corner.
Wether coming in Paris overnight for business, of in couple for a getaway… this is just perfect and I don't know other places I tried who can beat the value!
…please do not share too much this secret 🙂
Geoffro D– August 2017 –  travelled as a couple
"Uniquely themed hotel"


Highly recommend this boutique hotel. It is unique, quirky and not cookie-cutter, but has all the typical amenities you want in a hotel: elevator, vast breakfast options, 24 hour gym, sauna/ steam room, A/C, flat screen tv and decent size rooms for France. We stayed in the Moulin Rouge themed room- make sure you don't mind the color red if you choose this room lol.
I have nothing but great things to say about the entire staff- everyone is so friendly, accommodating and helpful. The customer service here shines.
Breakfast is great with a variety of options: made to order eggs, fresh fruit, yogurts, breads, cereals, dried fruits, pastries, cheeses, meats, etc.
The location is good too as it is walking distance to two different metro station lines so that you have access to all the Parisian hotspots. There are also several restaurants, coffee shops, mini groceries and shopping within the vicinity too
Brittpeace– August 2017 –  travelled as a couple
"Brilliant city discovery break"


Several themed rooms to choose from, all appointed to a high standard. Excellent staff attitude to ensure that the patrons have a memorable stay in the city, they are knowledgeable and friendly, but remain professional.
Will definitely return to this hotel when we visit Paris again
martinpitt24– August 2017 –  travelled as a couple
"Long weekend in Paris"


Lovely hotel, had thought of every little detail and gave an excellent service. Staff's local knowledge is superb and the decor give you a real feel for Paris. Walking distance to the Moulin Rouge and the nearest metro is a short stroll from the hotel meaning getting around Paris is very easy. Each room has a theme and you can tell each has been well thought out to create a real feel for France and romance. Would recommend a walk to the Sacre Cure to MonMarte with cobbled streets and live music. The hotel is in an ideal location with decent sized rooms. The service lives up to the price tag
Rhys M– July 2017 –  travelled as a couple
"Eclectic haven in the heart of paris"


We stayed here for part of our honeymoon and the staff couldn't be more helpful and kind. The hotel is sited a short walk from Montmartre but on main transport routes for accessing all venues and attractions in Paris. The themed bedrooms are amazing with beautiful lighting and fittings. The bath was designed to be used for two with mood lighting and powerful water jets. The hotel has hamman, sauna and fitness rooms
Chris M– June 2017 –  travelled as a couple
"Lovely Stay"


We stayed a few weeks ago and really enjoyed this unique, charming hotel. The Musée d'Orsay room we stayed in was lovely, but there are many options so do your research and find the room that suits you! We loved that our room had a huge jacuzzi tub we could come back to and relax, and the 24/7 sauna and steam room were amazing. The hotel is really well located, not far from sites including the Moulin Rouge but on a quieter street, away from the crowds of tourists which is nice. The breakfast buffet was a great start to our morning and the staff were all very friendly. A great stay in Paris!
Brandie R– May 2017 –  travelled as a couple
"Secret de Paris hotel"


Quirky hotel with each room decorated with a theme of a Paris landmark eg Moulin Rouge room. I think this a great hotel. They served a very nice breakfast and every staff member was extraordinarily helpful and considerate. This seems a hotel with a great culture and where the team only hires staff with the strong service ethic that prevails here
MikE179180– May 2017 –  travelled as a couple
"Superb Experience! Kudos to the Staff!"


This hotel is a gem. Conveniently located in the Montmartre district, it is the quintessential boutique hotel. There are, if I remember correctly, five different design themes for their rooms, each based on a different Parisian landmark. We stayed in the Trocadero room and fell in love with the whirlpool bath and mood lighting. A large comfortable bed, luxurious white terry robes and slippers, and a sense of being away from the world in a secret hideaway made this the ultimate romantic stay. But what was most impressive was the attentiveness and friendliness of the staff. To a person, they were welcoming, friendly, solicitous, and professional. It was clear they love their work, the hotel's history and concept, and creating a memorable experience for guests. From the initial greeting by Willman, whose friendly personality and passion for the hotel were contagious, to the warmth and helpfulness of Marie-Charlotte, Yazid, Oxana, and Matthieu, the staff could not have provided a better experience. Imagine being offered a beverage, espresso, while waiting for the room to be ready (arrived early) and again when I was waiting for the taxi they had called for me. They gave me a coffee to go. This is A+ hospitality. I will have fond memories of my stay at Hotel Design Secret de Paris for the rest of my life and would love to return someday.
br0ntealcOtt– May 2017 –  travelled as a couple
"What a special SECRET little gem of a hotel!"


For my first night EVER in Paris, this hotel was definitely a wonderful way to start! The staff was very nice and helpful. The room was great, the decor was fun and flirty. We stayed in the Moulin Rouge themed room and it was adorable with rodes carpeting and the stunningly sexy bathroom with rainshower and secret window!
Thank you Hotel Design Secret for making the start to my Paris visit GREAT!!!!
jessjamjourney– Feb 2017 –  travelled as a couple
"Top of the boutiques"


Nicest boutique hotel I've stayed in; and I've been back, several times as a consequence.
Excellent staff (Hello Willman and Christophe, if you are reading) make this a great place to stay.
Smart, attractively themed rooms, and you get a choice of English speaking TV channels (something of a rarity, in Paris)
Easy metro access from Gare du Nord: 1 stop M4 to Barbès – Rochechouart; then M2 4 stops to Place de Clichy.
Don't have any criticisms
JohnB– January 2017 –  travelled as a couple
"very ice stay"


Charming hotel with very friendly staff and very good breakfast , tastfully furnished rooms and bathroom with great rain shower , comfortable beds , good metro connection , we like to come back every time
tlunes– January 2017 –  travelled as a couple
"Beautiful Boutique Hotel"


My husband and I took a short break just after Christmas to Paris. What a lovely find for a hotel. Just in the right location near 3 close metros (few hundred metres walking distance from hotel: e.g. place du Clichy and Liege)
The staff were friendly and always ready to help. The hotel is equipped with its own sauna and fitness relaxation area. We stay in one of the many "moulin rouge" themed rooms. Just the right sized double room with decorated in deep red throughout and a nice ensuite with rain shower.
Next time we aim to book one of the D'Orsay rooms (had a peak into one of the rooms and they looked definitely bright and beautiful).
To the staff at this hotel.. thank you for our stay… a bientot!!
R W– December 2016 –  travelled as a couple
"Beautiful, great location, staff amazing"


Me and my husband stayed here Oct / Nov 2016 for my 30th birthday for three nights.
This was quite expensive but its Paris and this isn't a B&B this is a luxury hotel to treat yourself.
Located in close distance to the Moulin Rouge and some cafes and restaurants its a great little hotel hidden away.
It is however in walking distance of local transport including those great tourist green buses that take you round Paris.
We stayed in the Musee D'Orsay room and it was lovely.
Quite small but very tastefully decorated, and the jacuzzi bath was a real treat after walking round Paris all day.
The service we received in reception and the bar area was exceptional, the staff literally couldn't do enough for you and were so helpful when guiding you around Paris.
The only down side to this hotel was
* The room service was far too expensive, I appreciate its a luxury hotel but we paid less to eat in a restaurant.
* The technology surrounding the use of the lights and lamps is unnecessary. We aren't an old couple and usually fine with modern technology but we struggled to use it and some nights it was like a disco in our room !
Katie199– October 2016 –  travelled as a couple
"Wonderful welcome from William"


Cozy, unique and very friendly this is a great boutique hotel. Small and perfectly formed the details and quirkiness make me wish I was staining longer. So I must come back.
Willman thank you for a wonderfully warm and helpful welcome.
MooWun71– November 2016 –  travelled as a couple
"What an incredible find!"


One of the best stays I have ever had in a hotel! Me and my girlfriend couldn't have felt more welcome with all the staff doing anything and everything they could to help, whether it was booking trips or just helping with things to visit! Willman was one of the best receptionists I have met and is so helpful!! We will be back very soon!
Skuse Family– October 2016 –  travelled as a couple
"Simply loved it"


Perfect from start to finish. Very friendly welcome, nice "story" behind the hotel, beautiful luxurious room with jacuzzi and everything… Clean everywhere. Possibility of using sauna and hammam 24/7, that's great! Breakfast was good as well. I loved this place and will come back
Biegelcolanis– October 2016 –  travelled as a couple
"Wonderful secret in Paris"


My wife and I stayed at the hotel for two nights in early September and it really was a brilliant little place. The staff, edgy and interesting decor, location and amenities make it pretty unbeatable, especially when considering the deals that can be had.
Pierre on the front desk was simply awesome! He was hugely helpful, funny and went out of his way to make our time in Paris as impressive as possible. Pierre was standout but everyone we met was polite, helpful and very approachable. So a huge thank you goes out to all the staff.
The steam room and sauna in the basement (there is also a small gym) might seem gimmicky but actually we used it late one night and it was great. So easy – just use the robe and slippers in the room, get the lift down to the bottom floor and there is the sauna and steam room along with a water cooler and two showers.
The location works really well – Montemartre is a fabulous spot very close by along with the Sacre Coeure. We walked up to Sacre Coeure late one night after dinner (suggested by Pierre, enjoyed incredible food) and the view across Paris with the Eiffel Tower twinkling in the distance was wonderful – make sure you make a visit.
You are also a short walk from the interesting district around Moulin Rouge – a walk around in the evening can be great fun, but some of the shops and sights might be best left alone for those with young kids (or you might just need to answer a lot of quick-fire questions about rubber-based goods…).
You are also very close to a couple of Metro stops, so getting across the other side of the city is no problem. And on that note – we grabbed a 3-day unlimited Metro (+bus) ticket for around €25 each and it proved great value – just ask at the office at any Metro stop.
We made use of the Discovery package and therefore were able to have one night in two different rooms. We stayed in an Eiffel Tower room and then the Opera Garnier room. Both were nice in their own way – the main difference away from the decor was the Eiffel room had a shower and the Opera room had a bath (with shower over). There are decent TVs and sound systems in each room, including a radio/ alarm system that you can connect your phone/ iPad to either by wire or by bluetooth.
The rooms are 'small' but I think this is standard across Paris, and we never had an issue with it as we spent such little time in the room vs. exploring Paris. The switch from one room to another was also done so smoothly that this shouldn't be a reason not to do it.
I can say wholeheartedly that we would stay again, and very much hope to do so in the near future. We fell in love with Paris as a city and Hotel Design Secret de Paris played an important part in it all.
Biegelcolanis– October 2016 –  travelled as a couple
"Second stay and we're still loving this hotel"


This was our second stay at this hotel (August 2015 sorry for the delay in writing this). Once again we had such an amazing stay, from the moment we arrived at the hotel we were made to feel at home, we were greeted by Christopher and Willman, these guys are a credit to this hotel, they're very friendly and know the area very well.>
We stayed in the Eiffel Tower themed room, which wasn't massive, but it was lovely and cleaned to a very high standard. Those blackout curtains worked wonders and as noisy as Paris is, if the window was closed you couldn't hear a thing, which was great as I am a light sleeper.
Hotel is in a great location, not too far from the metro and there are loads of lovely restaurants in walking distance.
Once again, we will definitely be returning to this hotel, thank you very much for a great stay and hopefully we shall see you soon.
MandiBabii85 – January 2016 –  travelled as a couple
"Perfect weekend"


My other half booked this hotel as part of a celebratory weekend away and we could not have been more impressed with the hotel, the staff and the general atmosphere.
Situated a little way away from some of the sites, but this was in no way an issue – it proved for a relaxing experience, and a nice walk into some of the busier parts of the city. It's really close to the Moulin Rouge, which is a fantastic evening out if it were to be of interest.
The staff couldn't do enough for you, they were extremely accommodating and we look forward to returning in the future!
 Hannah F – January 2016 –  travelled as a couple
"Excellent service"


The staff here went above and beyond to help us during our stay, even walking us to the metro to help us catch our train on time. The rooms were nice and the bath tub was a great addition to help unwind after a day walking around town. Highly recommended.
  mpat123 – January 2016 –  travelled as a couple
"Magnificient staff, location, recently remodeled modern with true Parisian spirit"


My wife and I have just enjoyed 4 nights at this very quaint Parisian hotel in their Moulin Rouge room. What really makes this place special is their staff. Most especially, their front desk. From the beginning of our stay, to the end, they were always extremely friendly, eager to help, informative (and all spoke English our Spanish, a bonus). They gave us wonderful local recommendations for dining, booked some reservations, printed maps for us and always offered little extras (water for a day or trip, electric converters, etc). Breakfast was wonderful for the price, and security was magnificent (the police station down the block was nice for security).
Javiquin9845 – January 2016 –  travelled as a couple
"Fantastic romantic hotel in the heart of the city"


The hotel is by far the best hotel I have ever been to in Paris. The staff were attentive and knowledgeable on all subjects. One staff member even sat down with us, gave us hot chocolates and planned our sightseeing route around the city in great detail. The rooms were spotless and perfect for a romantic weekend break, and the story of how the hotel came about adds to the experience. All in all this hotel made our weekend in Paris great!
Luk G – January 2016 –  travelled as a couple
"Out of this world serice"


We stayed one night at this hotel for our honeymoon. We have stayed in some nice hotels during our time, but have never experienced service like this…it was incredible! Such passionate staff who explained the concept of the hotel.
Champagne on arrival and rose petals all over our room, so lovely and romantic. Truly spoilt!
The location of the hotel is a bit out of the city (just around the corner from moulin rouge), but was accessible by metro and the hop on, hop off bus.
After a long day walking around Paris, staff were more than accommodating to set up the sauna and steam room for us both.
Well done secret de Paris! I will definitely be returning again!Stayed December 2015, travelled as a couple
JBIS27 – January 2016 –  travelled as a couple
"Romantic, creative and comfortable"


We stayed here for a birthday weekend, and enjoyed the high attention to details in this small hotel. The TV was hidden in the footboard of the bed and raised with a remote. The bath had jets and lighting settings, and was good for two if you're not too large. The room was clean and very comfortable, and the idea of the themes was fun. We stayed in the room with the large clock on the wall, and it had automated lighting settings. The only note is that the bathroom wall and door are smoked glass, and smoked only part way up, so your privacy in the bathroom is quite limited. Restaurant recommendations tended towards heavy and expensive meals — they don't seem to get the idea of casual or inexpensive, even though there are nice lighter and more casual places to eat in the area.
cdcastell – December 2015 –  travelled as a couple
"Experience Paris's secrets"


Lovely romantic boutique hotel, with a concept worked out in detail. Romance guaranteed through a stay inside several famous monuments in Paris. Me and my wife stayed inside the Eiffel Tower and the Opera Garnier. I can do nothing else but recommend this experience.
remko_xotels – December 2015 –  travelled as a couple
"Excellent hotel with the confiest bed ever"


I stayed here with my partner for 3 nights.
The welcome to the hotel was very nice and you feel relaxed as soon as you arrive. The hotel was very clean and the mood lighting is very relaxing and nice.
Every room has a story attached to it, which is part of the history of Paris. We had the lovely Trocadéro room.
The room was very clean and comfortable with probably the best bed in a hotel I have stayed in! The bathroom was nice with a whirlpool bath which was nice after a day of walking around Paris
The staff were very helpful when asked about suggestions on places to eat, places to visit, metro cards etc.
All in all a great stay
Darthesherarer – December 2015 –  travelled as a couple
"Perfect stay"


We stayed in this charming hotel where the staff is extremely kind and where hotel facilities are gorgeous. By the way, we are already planning to come back! The rooms are beautiful, not noise at all from the street, nice big bed, helpful staff. We use the sauna and the Turkish bath twice because the idea was to relax as I started working in Paris a couple of months ago. I would say « Objectif réussi »! My wife and I we loved this place and we strongly recommend it as it is very well located, rooms are gorgeous, the staff provides a 5 stars service, and the facilities inside the room and outside like the sauna and fitness are excellent. I think that if you are traveling along, with your family, as a couple or if you are in Paris for work this place is the place to be in Paris. We Loved It!
arno_Traveler – November 2015 – 

travelled as a couple
"50th birthday celebration"


This was an excellent choice for my birthday celebrations.When I arrived, there were balloons and a birthday note from the staff on my bed. The room was superb with four different light settings. The bed was so comfortable and the staff were very helpful and polite. When I arrived I was asked to take a seat and then given complimentary coffee. There were also bowls of toffees which were replenished daily for you to help yourself to in the lobby/bar. The jacuzzi in the bathroom was amazing and there were 2 complimentary bottles of orange and 2 bottles of water in the fridge Definitely worth a stay here and if ever staying again in Paris would go back there. The metro is a 2 minute walk away and not many stops from the Eurostar.
Room Tip:
Opera room had an amazing jacuzzi and rain shower (didn't get to use the shower)
nicola w
– November 2015 – 

travelled as a couple
"Great location and Excellent Hotel"


Great to stay at this hotel, its close to some of the sights of Paris but without the crowds of people you find from most more central locations. Local bakery is amazing worth getting up early to sample the delights.
Stephen G – November 2015 –  travelled as a couple
"Couldn' have asked for more !"


My other half and I stayed here for 2 nights while we visited Paris for a few days back in July. We initially booked after seeing the hotel online and looking at reviews – and we're so glad we did! We had a bit of trouble finding the hotel to begin with as we got the Metro from the airport, but it wasn't a problem that Google Maps couldn't fix!
First impressions were very good. We arrived earlier than the room was available, but that wasn't a problem as we were able to leave our luggage in a room at the reception and head out to start touring Paris. Our luggage was taken up to our room when it was ready and was all there when we arrived back from our first day out.
There are 6 room 'themes' to choose from when booking a room which are all based on famous Parisian landmarks: Moulin Rouge, Eiffel Tower, Opera Garnier, Musee de Orsay, Atelier d'Artiste and Trocadero. We chose the Opera room which was decorated with a ballet bar as a feature of the bed. The room was spacious with a lovely big bed and a good-sized bathroom with bath & shower combo, toilet and sink area. On our second day, we were asked if we would like to change room for the night to one of the other themes. Free wifi was also available, as well as the hotel offering breakfast and also hosting it's own gym. We also were given a voucher for 2 free cocktails from the hotel's bar to be used whenever we wanted throughout our stay.
The staff at the hotel couldn't have been more welcoming. Having not been to Paris for several years, we were unsure where to begin. The lovely receptionist suggested we take a tour bus (one of four buses available) around the sights in Paris – a brilliant suggestion! He gave us maps, showed us where the buses toured and how to get to the bus stance by foot and by public transport and gave us bottled water to start us off on our day. The staff were always on hand 24/7 for anything you needed and were able to give touring recommendations, restaurant and cafe recommendations. I honestly can't express in writing just how genuinely lovely they were.
I would, without a doubt, recommend this hotel to anyone visiting Paris. We were also offered a room at a reduced rate on the day we were leaving. If we hadn't booked flights home and had an extra few free days, we'd definitely have taken it and stayed longer. It really is a gem of a hotel and you will not be disappointed!
auroraskyline – November 2015 –  travelled as a couple
"Really fancy boutique hotel"


This hotel was a good positive suprise. A small modern hotel with rooms with unique Interior design. I really loved it. We got a presentation when we arrived, that explained the idea -Secrets de Paris. I can recommend this to couples that are looking for something special and romantic.
Tina S – November 2015 –  travelled as a couple
"Great service, Romnatic rooms, Great location"


My wife and I tried a couple of different themed rooms. The hotel staff was very friendly and helpful. They even helped us with directions and places to go. Coffee\Breakfast was delivered to our room. The rooms are a little small (highly space optimized), but well equipped and nicely ventilated. This place is a 5 minute walk from the nearest Metro station and almost less that 15 Euros to get to most landmarks by Taxi which is great.
Room Tip: Try the ATELIER D'ARTISTE style. Pretty amazing.
Zaphod2013 – November 2015 –  travelled as a couple
"PERFECTION"


My husband and I visited Paris for the very first time and we couldn't have the most perfect time ever! We booked for 3 nights here and everything was absolutely perfect! When we go back, we will definitely stay here again and we recommend this place for couples who want a very romantic stay! The whole room was covered in romantic rose petals when we arrive, complimentary set of drinks were available for us. The bed was amazingly comfortable, the whole atmosphere of the hotel and room inside and out was just stunning! Our bed had a modern TV that came out of the foot area up and down with a remote and our bath had aromatic colors and awesome spa jets for better relaxation after a long day strolling in the city! It was just so lovely. The staff were also so wonderful! We had a blast with them! Great attitude and personalities and very professional guidance. They're absolutely fantastic! We also loved the area as a police station is just on the side of the hotel so very safe, there's great restaurants around the area like sushi place, patisserie and the infamous Moulin Rouge is just at the corner! We had such a lovely stay! Words aren't enough 🙂
CarolaC – October 2015 –  travelled as a couple
"Romantic interlude in Paris"


Our travel agent had recommended this hotel and we were very well taken care off.we would really give full marks to all the staff . Right from our checkin to our 3 days stay nothing was out of place.everyone in the reception were very helpful and panned our trips to perfection. .specilly to
pratap64 – October 2015 –  travelled as a couple
"Lovely hotel, even lovelier staff"


My husband and I just returned from our amazing honeymoon in Europe. We were lucky enough to stay at Hotel Design Secret de Paris for one night. The hotel is beautiful, well designed, and fully equipped; the best part, however, is the kind and accommodating staff.
The three staff members whom we interacted with were kind, spoke English(thankfully!), and committed to helping us enjoy our stay in Paris. They collectively helped us find a lovely cafe, showed us our room's amenities, and helped us quickly obtain a cab to the airport.
The hotel is very close, a 4 minute walk, to the closest metro. It is situated a short walk from the Moulin Rouge and "the white castle"(Sacre Ceour). We stayed in the Musée d'Orsay room and loved the execution of the theme. I highly recommend this charming hotel!
clarita82 – October 2015 –  travelled as a couple
"Lovely hotel"


Great service at check in/check out (drinks offered and umbrella offered on a rainy day). Well located near Montmartre but also the Saint lazare area. I was in a moulin rouge room. Well designed and very spacious (esp for a Parisian hotel). Red lighting (as you might expect given the room theme) was a little overwhelming. I would choose another room design when I come back but you can put the brighter lights on to tone down the red. And the design itself felt unique and special. Comfortable bed and great shower. Bathroom products could do with an upgrade – smell quite 'manly'. Good tv with some UK channels. Fridge in room (free water and oj) and free wifi – both v useful. I'd recommend a stay at this hotel.
Longhaul30 – October 2015 –  travelled as a couple
"Amazing bathroom and Topnotch Customer Service"


I had an amazing experience at Secret de Paris. I stayed in the Trocadero room. I really liked the theme and the ambience of the room. I enjoyed the bath the most. I could have slept in the tub! The staff was very friendly and accommodating. I cannot say one negative thing about my experience at the Secret de Paris. It exceeded all my expectations.
sharisseb2000 – October 2015 –  travelled as a couple
"Jaw dropping experience"


We stayed here during a weekend getaway and just loved it, every single minute of it. Staff was inviting, bilingual, and extremely helpful and knowledgeable. We planned to see Moulin Rouge one evening in Clichy, so this boutique hotel was situated perfectly for that. We walked to many restaurants, and took the nearby Metro when necessary. Because of the show we were going to see, we stayed in the all-red Moulin Rouge themed room. Once in a lifetime experience. If you are traveling as a couple, you better not be modest. Some may not like the open concept bathroom (not as bad as it sounds) but come on some of you out there, this is the City of Love so live it up!
JandKPreston – September 2015 –  travelled as a couple
"Romantic stay"


We had two lovely nights at this hotel. The girls at the reception could speak Russian and English, which was convenient for us. At the beginning a receptionist introduced the hotel to us and showed around, then we had our welcome drinks. The room was just fine, quite modern. I especially liked the staircase at the hotel, just like in the Triumph Arch. The breakfast was delicious and fresh. I would highly recommend this hotel to the couples
Chocohilic911 – September 2015 –  travelled as a couple
"Romantic Anniversary Break"


We spent 5 days at Secret de Paris from 13 September and celebrated our 2nd Anniversary. The staff were really friendly and helpful, nothing was too much trouble and they made excellent suggestions for restaurants. Our room was beautiful, well appointed and clean, nice theme and very romantic. Loved the central location and all attractions were easily accessible by metro station Place de Clichy. Breakfast was nicely done and informal with excellent service although you do pay extra for this but it's worth it. Would definitely return to this hotel when we go back to Paris.
jmo461 – September 2015 –  travelled as a couple
"romantic weekend un Paris"


Location of Hotel was extremely central to all interesting sites in Paris proper. within 3 miles of all sites. Rooms were very confortable, staff was extremely helpful and cordial. As a bonus TV had a variety of channels including some in English.
Mauricio E – September 2015 –  travelled as a couple
"Lovely Stay @ Secret de Paris"


My boyfriend took me here at the end of August for a lovely get a way weekend. It was just perfect, from the beginning until the end. We were welcomed by Willman who offered us cold drinks, explained the design of the hotel and finally told us their secret.
It seems that they do not have a proper room service (the summer one is still on) but they will have one in a few days. It didn't bother us at all since they have plenty of good lunch and dinner suggestions nearby.
Thanks Secret de Paris. See you in 2016!! 😉
kiki_trave – September 2015 –  travelled as a couple
"Perfect hotel for a short trip to Paris"


Visited last week with my Mum and stayed for 4 nights. Spotlessly clean, staff couldn't have been more helpful, superb breakfast, wonderful boutique rooms (we stayed in the Moulin Rouge) and ideal location for Metro stop just 2 blocks away at Place de Clichy. 24/7 Hammam & Sauna suite was the perfect way to wind down before going to bed after lots of walking and sightseeing. Will def go back and highly recommend it. Tres Bien!
LoveLargs – September 2015 –  travelled as a couple
"Great hotel"


I have been here for 3 nights for my honeymoon trip.. I tried musee d orsay room in the 4th floor.
It is tiny room with 18m2 but great decoration and special lights controlit has a nice Jacuzzi and rain shower in the bath. Also the mattress is the best.
The Wifi is good .
The staff in the hotel are helpful and doing everything to be relax and comfortable.
I liked the room but my wife didn't like it because of the glass bath door and small breakfast buffet.
It is a nice romantic hotel for couples
I don't recommend it for family with children.
Thanks to all staff there
Realy you will enjoy with secret de paris
abuhassan2015 – September 2015 –  travelled as a couple
"Just exceptionnal all the way around !!"


My wife and I spent our first anniversary here for a few days. Stayed in the Eiffel Tower room. The room is much larger than you normally see in Europe. Had the jetted tub in the bathroom which was so nice!! Silvia at the front desk is truly exceptional. She helped us make restaurant accommodations even before our arrival, went out to the curb herself to get a cab going in the right direction and asking in French to please hurry so we wouldn't miss our anniversary dinner. We had room service twice and were very impressed with the food and how thorough people were in asking what we wanted on our plates. We have traveled all over the world and found the service here to be one of the best we have experienced. We will stay here again on our next trip to Paris!
Chris M – August 2015 –  travelled as a couple
"A secret worth sharing"


A small, boutique hotel (only 29 rooms) the Secret de Paris is well located with easy walking to the Metro or hop on/hop off bus tour stops (lots of restaurants in the near vicinity too). Refreshments were offered on arrival and we were showed the hotel and our room's facilities. The rooms are modern and individually themed with air conditioning that works and reasonably sized bathrooms. The highlight for us though was the staff, genuinely friendly and helpful whether it's arranging a taxi, giving directions or restaurant recommendations they really go the extra mile and try to make your stay as pleasant as possible.
Oundleman – August 2015 –  travelled as a couple
"Paris Perfect 😀"


We stayed here for three nights for our wedding anniversary and were very impressed at the warm welcome and complimentary drinks 🙂 Our room was beautiful (Opera Garnier) small but just right for two, with a beautiful corner bath/jacuzzi. Breakfast was pricey but had a nice choice (buffet style) and we could choose from different types of egg dishes too.
Good location and close to a metro which wasn't far from the Eiffel Tower.
We had a lovely stay and would definitely go back but stay in a different room just to experience another theme.
Thank you to Willman for being so helpful and friendly.
Highly recommend this hotel, it's small but beautiful and the staff are amazing 🙂
Room Tip: Choose the rooms with the jacuzzi baths, Garnier, D'orsay and Artists rooms are the best ones…
misha72– August 2015 –  travelled as a couple
"The perfect place to stay in Paris."


My boyfriend took me to Paris as a birthday gift and staying at Secret de Paris made it even better! Everything was fantastic. We were welcomed with a complimentary drink and an introduction to Paris from a lovely member of staff. The Musée d'Orsay suite was perfect, with comfortable beds, a jet/jacuzzi bath tub & the very impressive surprise flat-screen that rose from the end of the bed at the touch of a button… And the hotel wasn't too far from quite frankly anything! One of the best hotels we've ever stayed in and would definitely recommend it to anyone planning a romantic trip to Paris. Thank you! 🙂
maisie b – August 2015 –  travelled as a couple
"Wow! Beautiful rooms and fabulous service."


This hotel was just perfect for the occasion of our 20th wedding anniversary. The location was ideal as it was just a short walk from the hotel to the Opera where we could pick up the hop on / hop off buses to take us to all the sights of Paris and it was only a short walk from the Moulin Rouge. The Opera room was gorgeous. Very romantic, particularly as there were rose petals scattered over the bed and around the bath on our arrival. We loved the huge bed, jacuzzi bath and the mood lighting. The staff were also fantastic. On our arrival a member of the team greeted us with a soft drink and organised us a lovely evening meal at a local restaurant and a lunch cruise on the Seine for the following day. All the staff took the time to make us feel special. I would definitely recommend this hotel if you are coming to Paris for a romantic break. Loved it!
Amandajane70 – August 2015 –  travelled as a couple
"Lovely boutique hotel"


Great, welcoming staff- they were very friendly and informative.
We chose the Opera Garnier themed room and it was lovely. The decor and amenities were perfect!
The location of the hotel was also great- within walking distance of the moulin rouge and montmarte. Only a short Metro ride elsewhere.
Would highly recommend if you're visiting Paris!
onayvz – Stayed August 2015, travelled as a couple
"Amazing customer service! – Merci Beaucoup Vanessa and Christophe"


My Daughter, Mireille went here for her Birthday a few days ago and I wanted to surprise her while she was there.
She stayed in the Moulin Rouge room
I emailed the hotel and they were so helpful, offering to do some things but also giving me lots of choice.
Thank you to Vanessa and Christophe for all your help – I could not have done it without you and my daughter was so made up! – such a lovely surprise.
She is now home and has nothing but praise for the hotel – I want to come now and see it for myself!
Thank you for making my daughters birthday special x
jane d – Stayed August 2015, travelled as a couple
"We loved it"


We regularly stay in Paris in different hotels. This summer we decided to book a room in the Hotel Secret de Paris and we can only confirm the positive experiences of other users on this platform: the location of the hotel is very good, only a few minutes walking time from Moulin Rouge, Montmartre and the Grands Magasins; the rooms are clean, nicely designed (we stayed in the Eiffel Tower one) and very quiet; the staff is especially friendly and helpful – they make you feel very welcome in this hotel. We definitely will stay there again during our next visit.
Dogo68 – Stayed August 2015, travelled as a couple
"Amazing hotel! Just perfect!"


Breakfast amazing, room amazing, staff amazing, experience amazing! Well done, exceeded our expectations and then some! Location is great for getting to moulin rouge and quite frankly everything else. We just walked everywhere, no taxis, metro or bus!
Chris S – Stayed August 2015, travelled as a couple
"Great Hotel"


We found this hotel by chance on the Internet. We were celebrating our 30th wedding anniversary and decided to spend 4 days in Paris. Secret de Paris is about a 10 minute taxi drive from the main railway station in Paris. It is very cleverly designed and there are a choice of themed rooms to choose from. Our room was the Eiffel Tower theme and was great fun. The rooms are small but luxuriousy appointed. All fixtures and fittings are of the quality normally found in five-star hotels. We had a 40 inch LED high definition television. A king-size bed with a memory foam mattress, 4 very comfortable pillows which we found unusual and a shower and bathroom which was fabulous. This hotel is absolutely ideal for a short stay up to a week. It is situated just a few minutes by taxi or metro for all attractions in the city. The staff were kind and helpful and were sincere with their help. All this together with a very good price made our holiday superb.
Mike S – Stayed July 2015, travelled as a couple
"Perfect start to our honeymoon"


We stayed in this hotel for the first night of our honeymoon in Europe and our only regret was that we couldn't stay longer! On arrival, after taking the euro star and two jam-packed metros, we were relieved of our luggage and taken to the lobby area for a complimentary drink of our choice. This allowed us to catch our breath and we were taken to our room; the Moulin Rouge! When we mentioned that it was our honeymoon within 10 minutes celebratory champagne was sent to the room! The staff could not be any more accommodating and also gave us two cold bottles of water for the next leg of our journey the following day! By Paris standards the room we had was very spacious and of a very high standard. Will definitely stay here again to try one of the other signature rooms and highly recommend it!
Neil C – Stayed July 2015, travelled as a couple
"Romantic, Romantic"


We stayed at the hotel Secret de Paris at Place de Clichy this was a great base for staying in Paris as a tourist. We stayed at this 4 star hotel for 3 nights in May… It was a classy hotel and very romantic. My husband took me here to celebrate my 50th birthday. The room are themed and our theme was Musee d'Orsay, there are 6 themes to choose from.
Our room was on the small size but very romantic with a plush and comfortable with a remote for the TV which popped out at the bottom of the bed. The room has lighting scenarios adapt your room lighting to go with you mood at the flick of a switch.
Free broadband internet access and international TV channels. A widget system so you can catch up with you tube, weather, etc live on your TV, a direct dial telephone and fax.
The room is Hot or Cold air conditioner and has a stocked mini bar. (There was a charge for this)
A bath tub with a Chromo therapy and Hydro massage with a rain forest shower, Bathrobes and slipper, Maison Azzaro toiletry products which are complimentary. An anti-mist mirror and a lonic hairdryer.
Place de Clichy is on the Paris metro and you can get a metro strat from Guad de Nord overground station. The hotel is about a 5 minutes walk away from the Metro.
On my birthday when we returned from being out sightseeing the hotel had left rose petals sprinkled on the bed a lovely card and a bottle of cava… Also we had complimentary cocktails.
Breakfast was served in the basement of the hotel, but there is an extra charge for this. We had breakfast out the three mornings we were there.
The hotel has a modern bar area which is very pleasant to sit and chill for a while if you want to before going out or retiring to bed.
The lift is fabulous a lovely touch… Go and stay and see the lift for yourselves.
The hotel has a sauna which is complimentary, if you want to use this you need to ask reception a little while before so they can turn it on.
It was very romantic and I would highly recommend this hotel to everyone you will not be disappointed it is magical. But of course we only staying in the Musee d'Orsay room.
Room Tip: Musee d'Orsay is beautiful
Roe_roe64 – Stayed May 2015, travelled as a couple

"I would stay here again and again and again."


The rooms are beautiful and I love that you can change rooms/ theme during your stay. The staff is truly service minded and make you feel so welcome and well taken care of. The breakfast is also very nice. I really liked the area as well. Centered enough. 10 minute walk from Lafayette and 5 minute walk from Moulin Rouge.
carine n – Stayed July 2015, travelled as a couple
"The Perfect Paris Hotel"


We finished our Rhone River cruise with 3 nights at the Secret Design de Paris Hotel. This has to be the best hotel we have stayed at in the past 15 years. The staff were most accommodating and friendly, a drink upon arrival and were made to feel right at home.
The room (#13 Eiffel) is average Paris size and very quiet, restaurants and a bakery close by .The staff,decor and finishing touches are what makes this hotel a step above the ordinary.
A ten minute walk up the Rue De Clichy takes you to the Montmartre area and Sacre Coeur, a ten minute walk down the street will take you to the Palais Garnier and the Opera area.
I would highly recommend this hotel for the experience of what a boutique hotel should be like. A genuine 5*
2_to_Explore – Stayed July 2015, travelled as a couple
"Charming!"


The concept behind this hotel is genius, spend a night in the famous sites of Paris! We stayed in the Musee d'Orsay room and it was beyond beautiful, so spacious and unbelievably comfortable. Modern, spacious, clean and beautifully decorated and a real delight to stay in. The staff are wonderful, so eager to help! The day we arrived they took our cases from us and gave us a map circling the places we should go and recommending restaurants and sites within a twenty minute walk from the hotel. You cannot do this hotel justice writing a short review! It's central and there are two metro stations within five minute walk and it is surrounded by quaint bakeries and restaurants. The only thing we weren't so sure of was the breakfast, it just seemed a bit pricey. But as I said it was surrounded by bakeries so that was an easy solved problem!
Emma M – Stayed August 2015, travelled as a couple
"Beyond perfect"


We picked the hotels based on reviews. it's hard to do it justice. The hotel is magnificent, and the staff in unbelievable. You would think their were all owners, they we so vested on our experience and willing to help well beyond traditional expectations. Also, cordial, warm…it felt like family and friends….you'll see all guest giving staff hugs at check out and promising to come back. I'm sorry I don't remember all the team names, but gentleman native from Cuba made out trip pretty memorable. I work at a great hotel chain and could have stayed at other 5 * hotels at a cheaper rate…we don't regret it a bit. Definitely a do over when we go back! Thank you!!!
Room Tip: We booked a "tour of rooms" so you changed rooms every night, if that's not your thing…
caromutz – Stayed August 2015, travelled as a couple