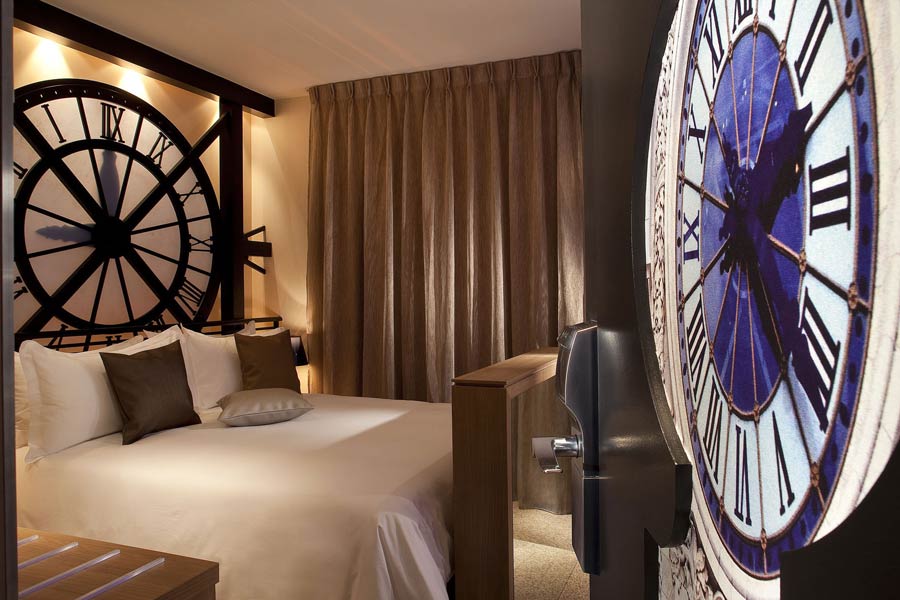 You are looking for a romantic hotel for your week-end in Paris ?
Discover the rooms of Hotel Design Secret de Paris  (some of them have a private jacuzzi in the room) and read  the  guest reviews  from people coming to Paris as a couple.
"Friendliest hotel staff"


We were initially a bit apprehensive about visiting Paris, considering our French language skills only ran to 10weeks worth of study. But from the moment we fumbled our way through our first greeting at this very special Parisian hotel, we were made to feel relaxed and welcome by the very friendly staff. Sensing we had travelled a long way to reach our destination, the staff showed us to the lounge area and offered us a complimentary refreshment, and time to unwind before we were shown to our room. The room was comfortable too – with blackout curtains, and a powerful shower. I don't think you could find a friendlier place to stay in paris if you tried. We would absolutely return to this hotel ourselves.
Teamian – September 2019 –  travelled as a couple
"Good visit"


This hotel was well decorated, well run and the breakfast was excellent. The rooms were small but rooms are small in Paris. Great location, great neighbourhood and I would recommend this hotel for couples.
Denverct – September 2019 –  travelled as a couple
"Just wonderful"


This is quite simply, a wonderful hotel. A real jewel in the Paris crown. We stayed in the Moulin Rouge room and the attention to detail is amazing. The mood lighting is a phenomenal idea! We found the room itself helped us relax after some long days in the city. Bed extremely comfortable and plenty of pillows helps make this a comfortable hotel as well as an aesthetically pleasing one. Nearest metro is about a 5 minute walk and we managed to get round the rest of Paris from here no problem at all. The staff are all extremely helpful without being intrusive and if you're looking for somewhere quiet to stay then this is the hotel! We felt like we were the only ones in the building. Honesty bar a lovely idea too. Would definitely return here on a second trip to try another room!
Laura B– August 2019 –  travelled as a couple
"Will be coming back! What a little treasure of a boutique hotel – loved it!"


We stayed for three days + this hotel just captured a little piece of my heart! This was a year ago now + I still think how much I loved my stay here! The staff were charming + gave us fantastic recommendations of the local area. The whole place was beautiful and had so much character. Recommend for location, friendly staff, cleanliness and some fantastic photos! Love love love Secret de Paris x
ToniLove To Travel– June 2019 –  travelled as a couple
"Nice hotel in Paris"


Nice hotel in Paris with different rooms designed according to different locations in the City. From Moulin Rouge to the Eiffel Tower. Small place ideal for low budget couples travelling for a romantic trip and looking for full Paris immersion
Pierre Shuester– May 2019 –  travelled as a couple
"A very cool hotel"


So much to love about this hotel. In no particular order: it's in a great location, with plenty to see and do on its doorstop. We opted for the themed Moulin Rouge room, which was fun. Amazingly comfortable bed. The only downside (for some people) might be the glass wall to the shower and toilet area, so you need to be comfy with your fellow guest! But what really sets this hotel apart from others is the employees. I'm struggling to recall a more helpful, friendly group in any hotel. They male you feel like old friends.
Nickwanderlust76– May 2019 –  travelled as a couple
"Fabulous Hotel/Amazing Staff & Service"


First time visiting Paris and our stay was absolutely amazing. I cannot say enough good things about this hotel, the staff and the service we received. Staff went above and beyond to make sure we were taken care of. The hotel was clean, adorable and smelled so nice! Our room was also amazing. Guillaume, Alison and Camila were so helpful and accommodating and made us feel so welcome from start to finish. All 3 of them were exceptionally accommodating to us.
I would highly recommend this gem of a hotel when staying in Paris!!!!
Carmen Campbell– May 2019 –  travelled as a couple
"Gorgeous hotel, absolute gem"


This hotel is amazing. The décor is so unique. It's classy, it's romantic and the staff are amazing.
We had the Moulin Rouge room, which was just gorgeous. The attention to detail, especially the particular attention to ambience in true French style, was everywhere.
A quick word on the staff as well who were amazing, very friendly, welcoming and professional. Everything you want from great service.
The lounge with the honesty bar was also beautiful with great champagne.
Overall, thoroughly beautiful hotel and you will be back once you've stayed once.
Oz1980– April 2019 –  travelled as a couple
"Brilliant"


This was a fantastic hotel. I could not recommend it more. The room was spotless, quite and the staff were so helpful. Its only a 5 min walk to the metro and Gallerie layfayette and after a long day out in paris a sauna and steam room was so nice to spend a little time in. Loved it!
Franck MacCarthy– March 2019 –  travelled as a couple
"What a lovely find"


Loved this hotel, stayed in the Eiffel Tower room, yes small but lovely, staff extremely helpful and attentive- breakfast was great – centre to most things, we walked everywhere. Would go again, nothing too much trouble for the staff and everything was top notch loved it
Kathryn W– March 2019 –  travelled as a couple
"Amazing hotel"


We have just arrived back from our stay at this hotel & I can't fault it in any way. The hotel is amazing, – great location, lovely themed rooms with Jacuzzi and rainfall shower, spotlessly clean, great breakfast and most importantly the staff, – they were so helpful & friendly & this made our trip even more special. We went for my girlfriends 30th birthday (which they didn't know) and so when they personally wished her happy birthday on the day & put balloons in our room this was a lovely surprise.
I would recommend this hotel to anyone & we would certainly stay here again if/when we are next in Paris
lee171181– January 2019 –  travelled as a couple
"Fantastic hotel"


Me and my partner stayed here for New Year's Eve and my birthday.
An absolutely stunning boutique hotel. Comfy beds, clean room. Gorgeous jacuzzi bath and rain showers
The staff are lovely and would do anything to make things special for you.
Breakfast is lovely – continental with a choice of eggs cook for you how you would like.
It's a fantastic location. Close to the moulin rouge ( which I seriously recommend ) near restaurants and bars.
30 min walk to the champs Elysees – 45 min walk to the Eiffel Tower.
Truly recommended and would stay again!
ShannanSmith– January 2019 –  travelled as a couple
"Wow, just wow, amazing hotel!!"


I brought my girlfriend to Paris last weekend for her 21st Birthday and I wanted to make it special and the hotel we stayed in made it extra special, it exceeded all of my expectations!! From the minute we stepped inside the door to the moment we left it was phenomenal!! We were greeted by a receptionist who couldn't have made us feel any more at home, on the way to the room we had a small tour of the hotel where we told little secrets of Paris and the hotel itself, very nice idea!! When we got to our Eiffel Tower room, we were amazed at the attention to detail, it was amazing, the mood lighting really added to the room and you could almost feel like you was there!! The shower room just added the class to the room with the blue lighting and all glass surround!! The bed was really comfortable which added to the comfort of our stay!! The hotel itself is in a great location, right in the heart of Paris, a 5 minute walk to the famous Moulin Rouge, 30 minute walks would take you to the bank of the river seine where you would be within touching distance of the Champs-Élysées, the Louvre and the Arc de Triomphè, and 30 minutes in the other direction would take you to Paris Gare du Nord station!! Finally as we checked out on the Monday morning the same friendly receptionist offered to store our bag for us for the remainder of the day, which was a very nice and thoughtful touch as our train wasn't until later that evening so it was very helpful as it wouldn't have been pleasant dragging a suitcase round Paris!! The hotel is great value for money and it is an absolute must if you're planning on visiting the city!! We will definitely be back in the future!!
Jsweet97– December 2018 –  travelled as a couple
"Really different and with sauna and steam rooms."


The concept is really different and the design amazing.
The staff is very friendly and helpful.
The hotel is very clean and the room size is really ok for Paris. The hotel is very quite. The bed of good quality and the bath room very nice (including jacuzzi for some rooms)
You will enjoy the sauna and steam bath rooms.
The location is good as well (15 minutes walk from Galeries Lafayette).
We will definitely come back
MonyLux– December 2018 –  travelled as a couple
"Perfect Honeymoon."


We stayed here for our honeymoon, the hotel was beautiful and the staff made us feel comfortable. We were greeted with tea and coffee when we arrived and our breakfast in bed topped off our stay. Thank you for making our honeymoon so special – we will be back for sure!
Damon– December 2018 –  travelled as a couple
"The perfect honeymoon hotel."


We stayed at the Hotel Design Secret for only one night at the end of our honeymoon but wished we could have stayed longer.
It was the perfect venue for us-the wonderful district of Montmatre on our doorstep and although we had little time we managed to see the whole of Paris from the Sacre Cour.
Our Opera room was fabulous: had beautiful atmosphere and we very much enjoyed the jacuzzi. The whole hotel had a wonderful ambiance and was beautiful-we loved hearing about the concept and the history.
However, absolutely the best thing about the hotel was the people that work there.
We were greeted by Pierre and he was incredibly welcoming and helped us immensely with a problem with pye luggage-personally helping us find someone to repair it for us.
I can honestly say we did not receive such fantastic service anywhere else on our trip and this included a 5* grand hotel in Prague and the Belmond Orient Express!!!
The other staff also couldn't have been more helpful-getting our room ready early and continually giving us help and advice for our stay.
Thank you all so much for making our stay such a wonderful experience
Lovelylaura66– October 2018 –  travelled as a couple
"Couldn't ask for better!"


We just returned from Paris and we were reminiscing about our trip. Both couples absolutely loved this hotel. We were blown away by the service we received from their front desk staff, in particular we loved interacting with Matthieu! He made some excellent dinner suggestions for us and his personality was superb! Do not hesitate to book this hotel! The location is excellent. For first time Visitors to Paris, location is VERY important so we could get easy access to the metro and have walkable distances to major attractions.
The breakfast that was included was simple but DELICIOUS! The pastries are delivered fresh every morning at 6am….you will not find a better croissant anywhere…believe me…we tried!!! Lol.
SchneiderGuy– September 2018 –  travelled as a couple
"Best Design Hotel in Paris !!"


Just fantastic ! Best Localization and Perfect Crew . All the hotel team are very polite and always ready to help in anything that you need . The rooms are very clean and with a special decoration ( it's not necessary a big room in Paris ,… just on efficient with a incredible shower and bed ! Localized near of all of the best attraction in Paris … we made almost walking ( but if you want metro stations are very close eihter) !!! Special thanks to Camila and Guilherme .. you are the best !! and speak Portuguese !!!!
Thanks for all and hope see you later !!!
Emerson M– September 2018 –  travelled as a couple
"Lovely romantic place !!"


Super nice place in a great location. Very quiet hotel and boutique hotel. Cute, well decorated and perfect for a few nights at two. The Quai d Orsay room was amazing with the spa bath. Perfect to enjoy and relax after a day out in Paris
diamen56– September 2018 –  travelled as a couple
"The Secret is Out: It was Magical!"


Wow! My husband and I stayed at this wonderful boutique style hotel for 5 days. What an amazing staff who spoke perfect English and were very helpful for all of our needs. As a gay couple we often can be made uncomfortable when checking into hotels but not at this wonderful hotel. It was clear this hotel was made for couples who want to enjoy a romantic stay while in the most romantic city in Europe. The staff gave us a wonderful tour of the facility upon checkin and they never blinked an eyelash when talking about making sure our romantic needs were met. It was absolutely the best bathroom options in a Paris hotel in this price range. We opted for the jacuzzi hot tub room which still allowed us to soak and shower together using the beautiful big rain shower head. I highly recommend this jacuzzi style bathroom because after our long days walking and exploring Paris, it was excellent to use the hot waters inside the privacy of our own room to relax. Most hotel bathrooms in Paris are small and tight, not here. You will feel like it's a whole other room it's so big.
We also loved that the hotel was perfectly positioned to use both bus and metro trains to get around Paris. We chose to use the excellent Paris buses to get around and they were way better than the underground trains.
Plenty of wonderful cafes and restaurants are in the neighborhoods surrounding Hotel Design Secret de Paris. You're blocks from some of the busiest streets of Paris and also some of the quietest residential areas. My husband and I personally didn't care for the touristy Moulin Rouge area close-by mainly because we were constantly accosted by women who offered us massages and entries to gentlemen clubs, clearly not our cup of tea. But we always felt perfectly safe!
EdReggi– August 2018 –  travelled as a couple
"A Unique Paris Hotel with class!"


This is not your usual hotel its more of an artsy fun place to stay. The staff is friendly and very accommodating. It's close to everything and a cab ride or subway will get you where you need to be. We walked most of the time. This is the cleanest hotel I;ve stayed at in a long time. It was fun! Whoever came up with this design and concept should open more.
makeisto4u– August 2018 –  travelled as a couple
"Fabulous hotel!"


The hotel was clean, with fun themed rooms. It's in a great location and walking distance to many sites with great restaurants nearby for dinner. The hotel staff were so friendly and we hope to stay there again when we come back to Paris
Dannii C– July 2018 –  travelled as a couple
"Great Property Close to everything!"


We came to Paris for our anniversary and were not disappointed. The room was clean, neatly appointed and the staff was excellent. Breakfast was good. The location was within walking distance to many fine restaurants and the city center. I would recommend this property and if we visit Paris again it will be at this hotel
pmaza419– July 2018 –  travelled as a couple
"Great hotel"


The hotel was in a good location and the staff was very helpful. There is plenty of
shops and bars within walking distance of the hotel. The rooms was very nice. Would definitely stay at this hotel again
james b– June 2018 –  travelled as a couple
"Excellent Service and Beautiful Hotel!"


If you want to stay at a hotel where you are treated extremely well, this is it. Paris was our last stop on a two week European vacation where we stayed at multiple hotels, and this was by far the best. The front desk staff has figured out the "secret" to great customer service and they show this through each interaction with you. Hotel staff went above and beyond to ensure we had a pleasurable stay. Thank you Hotel Design Secret de Paris for making our stay in Paris extra sweet!
Zohaib G– June 2018 –  travelled as a couple
"Perfect location for sight seeing in Paris!"


If you want to stay at a hotel where you are treated extremely well, this is it. Paris was our last stop on a two week European vacation where we stayed at multiple hotels, and this was by far the best. The front desk staff has figured out the "secret" to great customer service and they show this through each interaction with you. Hotel staff went above and beyond to ensure we had a pleasurable stay. Thank you Hotel Design Secret de Paris for making our stay in Paris extra sweet!
Amy M– June 2018 –  travelled as a couple
"So Comfortable"


The beds in this hotel are amazing. We stayed here the last 2 nights of a 10 night European backpacking trip and I slept so well that I had enormous amounts of energy to see as much of Paris as I could in 2 days. The staff was extremely friendly, the hotel was very clean, the jetted tubs were amazing, and the price wasnt bad at all. We stayed in the Opera room but I'm guessing you can't go wrong with any room.
Patrick H– May 2018 –  travelled as a couple
"Quirky, Central, Convenient,"


Very reasonably priced accommodation, centrally located, compact and clean, themed rooms ( we were in the Eiffel Tower room ), dim mood lighting throughout. Friendly helpful English staff. Standard continental breakfast on offer with eggs any which way if required. Walking distance to all decent facilities … including the Moulon Rouge
Eric L– May 2018 –  travelled as a couple
"Very good location and highly recommended"


Pluses will be very good location near different subways and Montmartre . I could walk to try all the best value food nearby – top ranking restaurants within 10 mins walk . Hotel room is well designed and new. Even got a speaker for me to steam music . Hotel staff is very helpful when I was trying Uber to train station
Only little minus is the room temperature could not go lower on the 2 days it was hot in Paris
MichelleNYp– May 2018 –  travelled as a couple
"Cool Deco"


Nice newly decorated hotel. We had the Eiffel Tower theme room. Though the space is not big but it is very well designed. Good sound proofing.
I like be the location. Only a short walk to moulin rouge and lots of good food within walking distance
dave– May 2018 –  travelled as a couple
"Great hotel"


We have stayed in this hotel for Easter. Hotel is very cozy, beautiful room, very different from any other hotel rooms. Hotel has great facilities which we could use 24h a day.
Everyone was very friendly and helpful. Hotel is walking distance from most tourists attractions. We had absolutely fantastic time.
Thank you for having us 🙂
Aleks and Jonny
Aleksandra S– April 2018 –  travelled as a couple
"Beautiful Boutique Hotel"


Stayed here for 4 nights over Easter – a surprise off my boyfriend. What a beautiful hotel nestled away from the hustle and bustle but within walking distance of every Paris attraction. Hotel is about 5 minute walk to the Moulin Rouge and 15 mins from Sacre Coeur. We had the Eiffel Tower room (13) The room was spotless, comfortable bed & the bathroom was modern with jacuzzi bath and mood lighting. Water and fresh orange left complimentary each day in the fridge and even Easter eggs left in the room on Easter Sunday which was lovely. We didn't choose to have breakfast preferring to make use of the local patisseries (& they are plentiful) 24hr concierge, friendly staff and made to feel welcome from start to finish. So many nice touches that made our break extra special. Loved our stay here & would highly recommend.
Summershiraz– April 2018 –  travelled as a couple
"Mr wayne pickering"


Stopped in the hotel for 4 nights in the Eiffel Tower room . Fantastic room lovely hotel and the location is very good , and the staff are very friendly . Highly recommend for a weekend visit I would come back again if I visit Paris
Thecat1267– April 2018 –  travelled as a couple
"Romantic and classy"


I booked this hotel as a surprise for me and my now fiancé. The small boutique hotel makes it feel so classy and special, and the different style rooms are amazing.
We had the 'artist' room, it was bright, airy, clean and modern, with some lovely features like the switchable mood lighting. The jacuzzi bath was amazing, perfect after a long day wondering Paris, and in my case proposing to my partner – she said yes by the way!
The staff were helpful and informative, they catered for our every need. We opted for the breakfast in the room on our stay, the choice was amazing and the food perfect and very tasty! Breakfast wasn't cheap but as to be expected for a hotel in a city such as Paris.
Location wise it was perfect, taxi was only €8 Euro from the train station – we travelled from London via Eurostar. There were plenty of cafes and places to eat near the hotel but we ventured towards the Eiffel Tower which was only €1.90 each and 15 minutes on the metro (underground).
Overall the trip and hotel were a success, the hotel just made it for us though. We 100% would recommend and would stay again but in a different themed room.
Only slight gripe was that the jacuzzi bath was very noisy and the room next door decided they wanted there's on at 1am in the morning, meaning all we could hear was the rumble on the bath and and the water pipes feeding their bath seemed to run through our walls. All in all though that's just me being picky and the hotel was outstanding as were the helpful staff.
MattUpson– March 2018 –  travelled as a couple
"Very Cozy"


My fiance and I enjoyed our stay at this hotel! We selected the moulin rouge room, the themed room and the lighting was very cozy! We loved it. The hotel itself is very interesting, as well. We didn't get a chance to explore it, as we were busy fitting 4 days of Paris sightseeing. Its location is near the station, so you can get anywhere easily. Plus it is walking distance from great restaurants (Flesh for dinner and les Deux Moulins for breakfast) and Montmartre.
By fault of our own, we did not select the proper check-out date, but it was so problem and we were not charged for it! Their customer service was fantastic! Also kind as we came and went. For couples looking for an intimate stay, we recommend this place!
taelar b– March 2018 –  travelled as a couple
"Phenomenal"


We stayed at this hotel for 3 nights and as soon as we arrived we were made to feel welcome. Staff at the front desk were really helpful and as we arrived at 10am (room shouldn't have been ready till 3pm) they made sure our room was cleaned first and we were in by 11am. The hotel itself was incredibly clean and lovely and quiet, never heard anyone in the rooms next to us or any disturbing noises at all!
The staff couldn't do enough for you, we needed quite a lot of help getting from place to place but this was never a problem because as soon as you asked reception they would get out a map and circle the best places and the quickest way to get to them!
This was a special weekend for us as we got engaged, we wanted to go for a special meal and the hotel recommended a quaint little place and straight away booked a table for us!
Would definitely recommend this hotel and when we go back to Paris in the future this is the place we will stay!
Great job guys!!!!!
Matt S– February 2018 –  travelled as a couple
"Fantastic stay!"


Excellent property with themed rooms. Super adorable set ups and the shower/jacuzzi in the Opera room was awesome. Small little touches like a ballet slipper decoration on the beds shows the attention to detail they show. Conveniently close to a couple Metro stops. Staff was incredibly friendly and helpful. We even received a gift of chocolates for Christmas from them. Thank you Matthieu and team for a fantastic stay over Christmas!
JDub– January 2018 –  travelled as a couple
"Very Special Holiday"


We stayed at Secret de Paris during Xmas time. The moment we walked in, we were blown away by the friendliness of the staff and their sense of humor. They took their time to explain the little fun facts of the hotel while checking us in. We settled nice and comfortably in a room with theme Trocadero. It was a good size in Paris standard and the jacuzzi in the room is definitely a very good touch of luxury in a boutique hotel. The room is modern and well equipped with thoughts.
We have to mention the quality of their staff, not only they are friendly and welcoming. They anticipate your needs and not afraid to give you idea where to go based on what experience you would like to have. We were given a list of tourist attractions that remained opened during Xmas day without asking (they did their research and typed them up with opening hours on Xmas day). Point to us where to get some nice wine and champagne during our stay in Paris and good place for a coffee and croissant experience.
Overall its a very nice hotel but their staff make it a top choice for us next time we come to Paris.
Clara L– December 2017 –  travelled as a couple
"Fantastic hotel"


What an amazing hotel. We had the Eiffel Tower themed room, which was stunning. The jacuzzi bath was incredible. The Hotel is nicely located and I would 100% stay here again. The staff were very friendly and polite.
Paul G– December 2017 –  travelled as a couple
"Celebrating or birthday"